Scaling and growing the business is the end goal of any business and the bottled water business is no exception. To achieve scalability, businesses need to reach a point where they have optimised their business operations. Optimising business operations helps in effective strategic planning for scaling.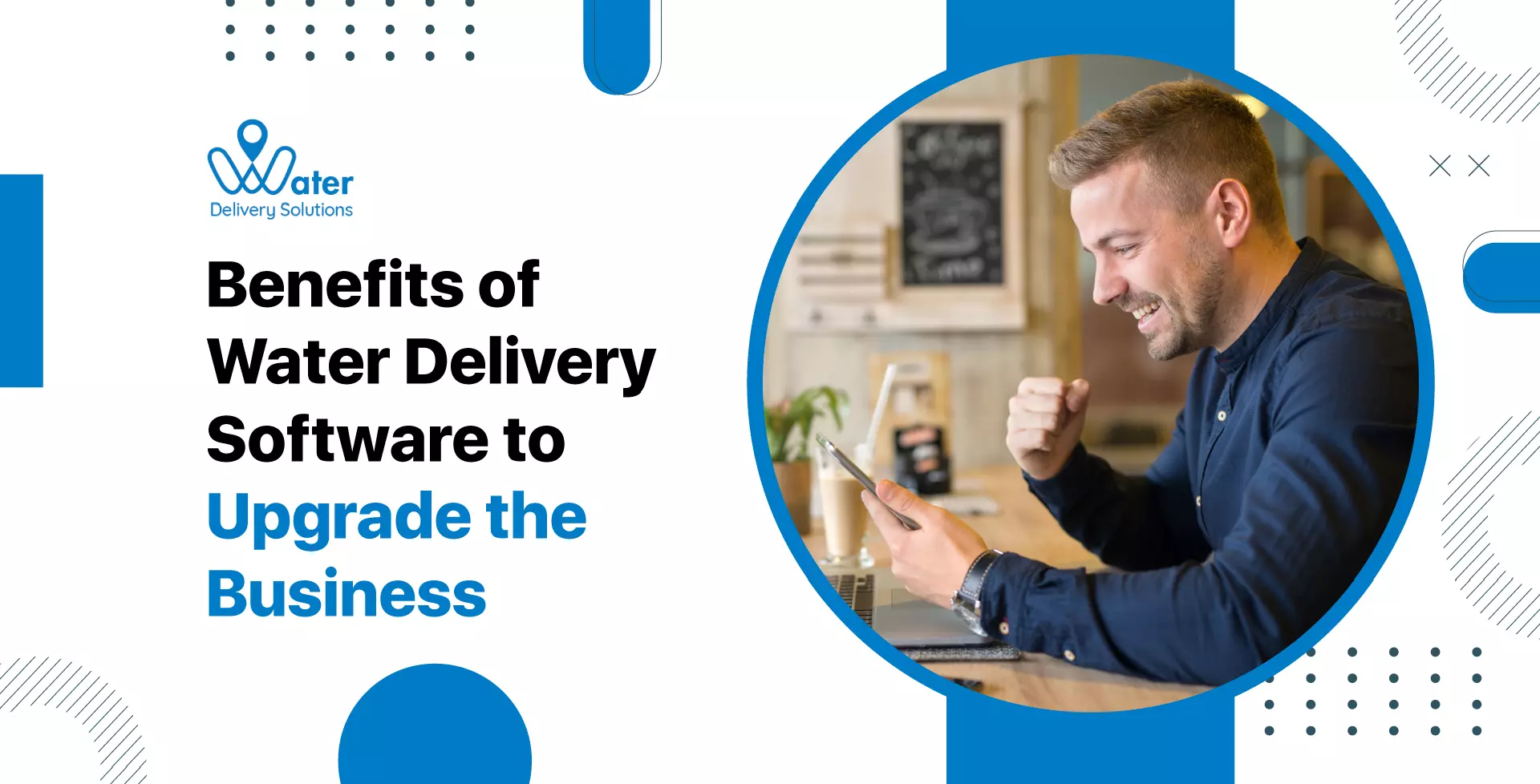 Water delivery software automates and streamlines water business operations allowing businesses to focus on scaling up instead of worrying about the business operation. 
Here is all you need to know about the benefits of water delivery software and how can it help you boost your business.
Top 3 benefits of using water delivery software in the bottled water delivery business 
Digitises the business- Digitalising the water business means giving the business an online platform and increasing the scope of visibility. Once the business is set online, with promotion and marketing on social media, new customers can be acquired easily without having to spend much money. Online presence builds brand awareness and eventually leads to creating a strong digital brand presence.
How does digital presence help businesses?
Help in customer acquisition

Helps in online marketing

Build a strong  brand presence digitally
Saves time and resources- Integrating the water delivery software with the bottled water business helps in streamlining the entire business and saves the head cost of the business operation. The water business operations are automated with water delivery software that reduces human involvement and errors. The software makes the business efficient and optimises the business's operational costs. The software is a one-stop solution for businesses to manage and operate their water business. 
How can saving time and resources help businesses? 
Allow businesses to save money 

Increased productivity and profitability

Saves time and allows businesses to plan future sales
Increases customer satisfaction- The system provides a transparent channel of communication for customers. They can contact delivery persons once he is out for delivery in case of delayed order. The customers also get real-time updates on the orders and give an estimated time of arrival. The businesses can offer reward points which excite customers to buy more. Discounts for prepaid recharge can also be given to the customers by percentage.
How does customer satisfaction help your business?
Increased sales

Improves payment recovery process

Avoid customer disputes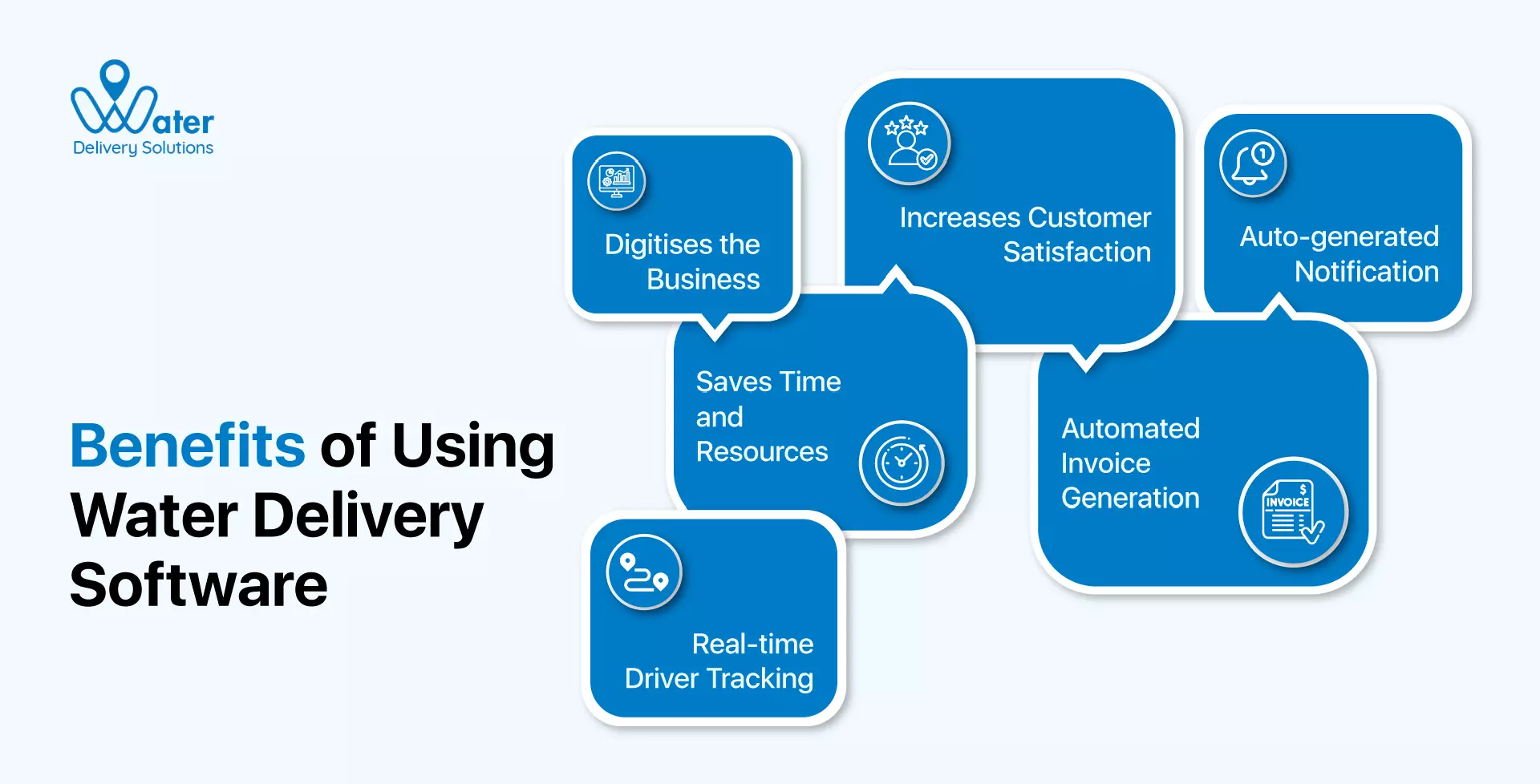 Real-time driver tracking- Customers and business owners can track orders and delivery drivers in real-time. Real-time tracking improves the service and promotes transparency between the business and customers. The businesses can also live track the drivers and vehicles to measure their performance and usage. 
How does live tracking help businesses?
Increases trust in the business and adds value to the brand

Enhances the customer's satisfaction scores

Reduces the churn rate
Auto-generated notification- The system auto-generates notifications that are sent via push notification, email, and sms. Real-time updates are generated for drivers, customers and vendors. 
How do automated notifications help?
Avoid missing out on orders or important activity 

Avoid miscommunication

Promotes transparency
Automated invoice generation- The invoices are auto-generated by the system and are sent in a single click to all the customers via email and sms. The invoices can also be accessed from the customer interface. The auto-generated invoices are link-based and customers can pay directly from the link.
How do auto-generated invoices help businesses?
Avoid chances of error in the invoice

Link-based invoices allow customers to directly pay from the invoice
Water delivery software helps vendors to increase the productivity, profitability and efficiency of their business and allows them to scale up. With the features offered by the system, businesses can avoid hiring a large staff and reduce overall operational costs.
If you're interested in learning more about water delivery software and seeing how Water Delivery Solutions can help your business: Book a Call
He loves to explore. His passion for helping delivery industries in all aspects flows through in the vision he has. In addition to providing smart solution to make delivery process flawless, Ravi also likes to write sometimes to make it easier for people from business industry looking for digital solutions.