What is a Paperless bottled water delivery business?
Businesses are going paperless. Are you?
A business that accepts orders digitally, automated dispatch management, tracks the order delivery online, and collects payments online via wallet, credit/debit, etc. is a Paperless Business. 
What could be the reason for this huge shift to going digital instead of doing complete business on paper? 
There are not single but multiple benefits of going paperless in your water delivery business.
Advantages of becoming paperless include:
Versatility: A business may go paperless in a variety of ways. Files may be stored in the cloud, on your PCs, or even on your mobile devices. As a result, you may quickly tailor procedures to your company's requirements.
Less clutter: If you have a lot of paper, you'll have a lot of actual stuff in your office. If you're having trouble staying organized, cutting down on paper goods can be a good place to start.
Easier process for Delivery boys: For a delivery business with moving workers, a paperless mode of business may be appropriate. You can access digital bills, and order details more readily when out for delivery.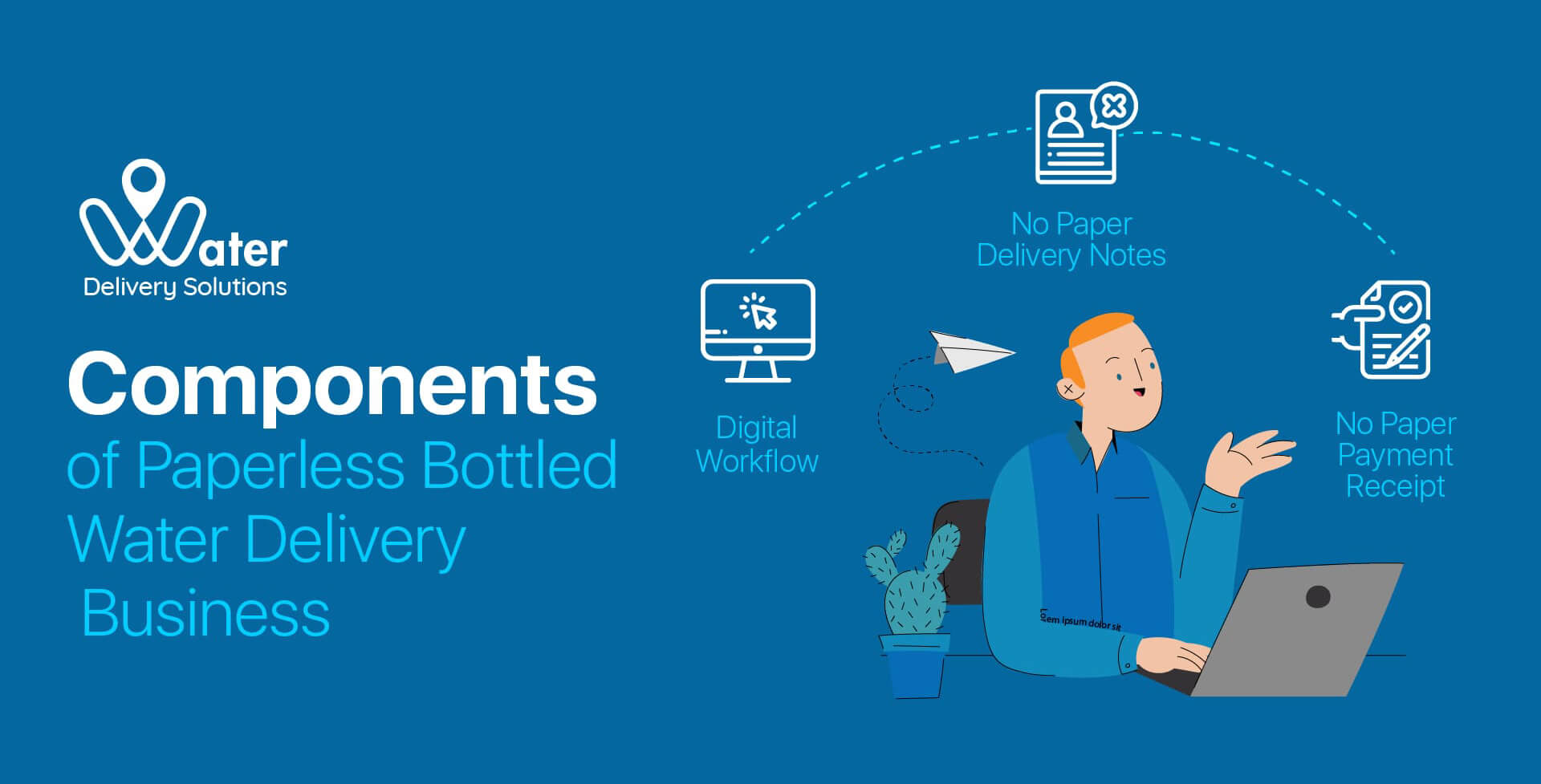 Going paperless increases productivity
According to research, over two-thirds of office workers lose an hour every day looking for papers, wasting time and money while lowering productivity. This does not include the time it takes to print and file the papers.
But an automated management system allows users to quickly search for and find the document they need. And removing laborious tasks such as finding misplaced documents can improve employee satisfaction by giving employees more time to focus on their workload.
There are multiple benefits while going paperless in your water delivery business. Such as:
Digital Workflow & Business Automation
You can completely automate the delivery business with smart delivery management software and remove the need for papers in your business. With the complete digital workflow, you will save the extra costs of papers, save your employees a lot of time, and have all the reports digitally ready all the time.
With the smart delivery app, you will not need any paper notes while delivering and updating any sheet. Proof of delivery and order updates could be edited via the app to reduce all the manual work and confusion.
No paper Payment Receipts
Customers require receipts for the payments or order delivery, you can automate the complete princess and save the papers with the help of the customer app and driver app. Once the payment is received online from the customer, the driver can update the status in the driver app and the customer gets notified of the payments with the receipt. Receipts could be printed from the app if required.
In the delivery business, you manage multiple operations involved in completing the delivery to the doorstep. It includes paperwork from the start of keeping order tracks. 
With Paperless Water Delivery Software, you can automate the complete process of keeping all records online in the Admin dashboard, A customer app for the customers to order online, and a driver app to manage and collect payments while delivering the orders. 
It is making not only your but your employees work smarter and faster and saves time On the other hand, it saves the environment by saving the use of paper. 
Get a free trial of the software now!
He loves to explore. His passion for helping delivery industries in all aspects flows through in the vision he has. In addition to providing smart solution to make delivery process flawless, Ravi also likes to write sometimes to make it easier for people from business industry looking for digital solutions.